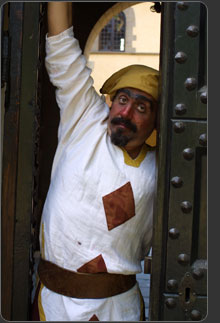 'L'ARMATA DI CONCIO'
A traveling performance with a medieval setting
by Luca Perrotta With Luca Perrotta, Rosanna Gentili, Giacomo Gosti
The Jester and the Buffoon bring a deep joy to the weary hearts and peace to the unsound mind.
A gang of commedia dell'arte, grotesque characters with costumes of that era (1200 – 1600): Concio, a farmer, is vulgar and rough and head of the family. His wife, Pizia, noble, modest but a bit of a witch and a chatterbox. Concio's twin brother (doesn't look like it), is a knight of the Uan Hose crusades and an honour to the family but a bit unlucky.
They move around with a wagon full of rubbish and unhealthy produce from their garden, as if they were nomads coming into town for a festival.
While moving, there are animators "among the people" that interact with the crowd using gags. When they stop, they tell stories about their family that are full of misfortune; like the plague and the crusades. This lasts until the knight is sanctified.
In this moving performance, the actors surprise the public with visions, gags, bizarre shows, juggling, unbelievable acrobatic balancing positions, and fire performances with fire-breathing (only at night). This type of involvement has a vast repertoire has many diverse performances among them in order to provide for various demands.
The performance can be both moving (around 2 hours) and stationary (around 45 minutes).
OTHER PRODUCTIONS...
» Circo 900
» Infabula
» Babuska: Love Match
» Concio...tra moglie e marito
» Il contadino che vien...
» Baccalà musicale
» Events and Performances