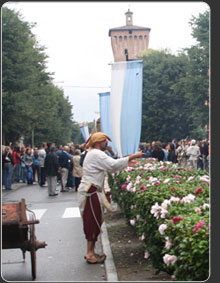 ' IL CONTADIN CHE VIEN DALLA CAMPAGNA...'
A traveling medieval performance
by Luca Perrotta

Pull, pull the wagon, bringing the produce from his land in the countryside to the city to sell.
Up and down he goes on the roads pulling with difficulty the wagon without a straight road to ease the journey.

Sometimes he gives to those he likes, green beans or peas....and when he can, even a fennel and so on.
An uncivil and crude Tuscan farmer who is always drunk; he gets angry with whoever ignores him and doesn't think twice of throwing at them the produce of his garden.
When he is tired he stops and prepares his meal while entertaining the curious with tricks, crazy acts and abilities like juggling and fire-breathing.
This theatrical performance is based on the capacity of the actor to build a show in which the public becomes the protagonist. This is ideal for street festivals.
OTHER PRODUCTIONS ...
» Circo 900
» Infabula
» Babuska: Love Match
» Concio...tra moglie e marito
» Il contadino che vien...
» Baccalà musicale
» Events and Performances