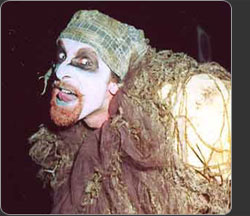 ' L'ELISIR DEI MIRACOLI'
Theatrical street performance.
by and with Luca Perrotta

Where would a street artist ever be born? Boh?!
On the street, besides the various artists, there are and were vendors so called "charlatan"; that sold everything and more and with a thousand ways and means even the most precious merchandise: the miracolus potion…
The actor that interprets the "charlatan"t uses typical street theatre techniques like juggling and fire-breathing; and with his capacity to involve the public with stories, jokes and performances, he turns it into a unique show.
This theatrical performance can also be represented in a moving form and with medieval costumes and setting. It is best used for street festivals and has no need of sound systems or equipment.
OTHER PRODUCTIONS ...
» Circo 900
» Babuska: Love Match
» Dracula
» Tra moglie e marito non...
» Il contadin che vien dalla campagna...
» Il Ragionier Baccalà