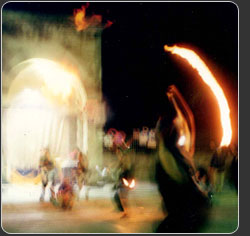 ' D R A C U L A '
Co-production:
Laboratorio Amaltea
Cantiere Ikrea
Director: Dimitri Frosali
Inspired from the text of Bram Stoker (rewritten by Alessandro Serpieri) the show develops the classic story in 20 scenes.
The imaginary and fantastic potency of the work is expressed through rules, instruments and inventions. Its expressive recreation is the result of street theatre mixed with the new circus disciplines.
The visionary and gothic drama is played by 7/8 people among which are street and theatre artists, dancers and musicians.
A large scenic structure creates from scene to scene 6 to 7 stage settings of the story: the interior and exterior of Dracula's castle, cemetery, lunatic asylum, ship, Lucy's house, London.
The visionary's atmosphere of the text increases with the use of fire, smoke and music setting. The show extracts ideals from the Dracula of Coppola, of Herzog and of the Baron of Munchausen of Gilliam.
OTHER PRODUCTIONS...
» Circo 900
» Babuska: Love Match
» Tra moglie e marito non...
» Il contadin che vien dalla campagna...
» Il Ragionier Baccalà
» L'Elisir dei Miracoli